PU FOAMS
PU Slabs : These are made to standard size of 1000 mm X 500 mm,1000mm x 1000mm, 4' x 4' and a special size of in various thickness ranging from 5 mm to 500 mm and density ranging from 34Kg ±2Kg/Cu.m to 60 Kg ±2Kg/Cu.m. We offer customised corrugated sheets as per customer profile. Used for various applications in cold storage. Cold plants, freezers, false ceilings etc.
PU Pipe Section : To Suit 12mm NB to 750 mm NB Wall thickness ranging from 15 mm to 300 mm STD. Length : 1000mm, We also offer pipe in shiplap Specific dimensions can be made to order. Pipes are made in the form of half round X 1000mm long to suit various Nominal bores of Pipe lines for insulation purpose.
Most of the manufacturers do not have pipe sections for sizes above 350 mm NB, for the larger sizes they use to cut slab sheets and paste it on the curved surface of the pipe line. This kind of insulation will not be properly insulate as the cut pieces would not touch the curve at many places and joining with bitumen will have gaps at places giving chance of air entering inside.
We, manufacture pipe sections to the size of 750 mm dia of various thicknesses and beyond that we manufacture lag sections from 1 mtr dia to 4 mtr dia.
PU Saddle/ Supports : These type are used for supports for the pipeline, we manufacture anchor type, slide type and guide type supports for pipes from 15mm to 750mm NB for various thickness of insulation and density varying from 60 - 300 kg/CuM.
PU Lags Section :Lag sections are specially moulded for larger diameter / radius shells tanks etc. to suit the curvature of the tanks or shell, these sections are suitably made and are layered one upon the other to increase the thickness of the insulation by staggered joints. This method is useful in the absence of insitu - pouring/foaming and to prevent blowholes or unfilled area by insitu foaming method of insulation.
PU Foams (Sandwich Panels):Cold rooms are designed for Hotels, Catering Firms, Retail Stores, Pharmaceutical Companies, Hospitals and Supermarkets, Cold Storages, for the storage of foodstuffs. They can also be used for Preparation Rooms, Laboratories, Industrial Premises & Telecom Shelters.
With its modular, prefabricated PUF insulated panels, the cold rooms can be extended in three directions (height, width and depth), offering a very large number of volume combinations.
PU Chemicals : We also offer PU Chemicals in bulk three retail packaging.
Physical Properties of PU foam :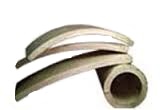 1.
Density
38 ±2kg/Cu.M.
2.
Comprehansive Strength
280(KPa)
3.
Tensile Strength
>1.8kg/Cm2(ASTM 1621-64)
4.
Close Set Content
>95%
5.
Thermal Conductivty(K)
0.018W/m deg K
6.
Ignitability (ASTM D 1699)
Fire retardant. not easily ignitable (Class P)
Aadvantages
Lower thickness of PUF insulation is enough, compared to other materials.
Lower thermal diffusivity of PUF will result in lower rise in conditioned temperture in covered area.
PUF can be used for dual temperature systems Applications.
PUF could be made to custom built, against specific order to suit any contour, even with overlappling joints.
PUF moulded products come with water resistant skin, thus need no extra facing.
PUF is coversant & adaptable to all conditions and application.
Pipe supports come under the category of High Density.